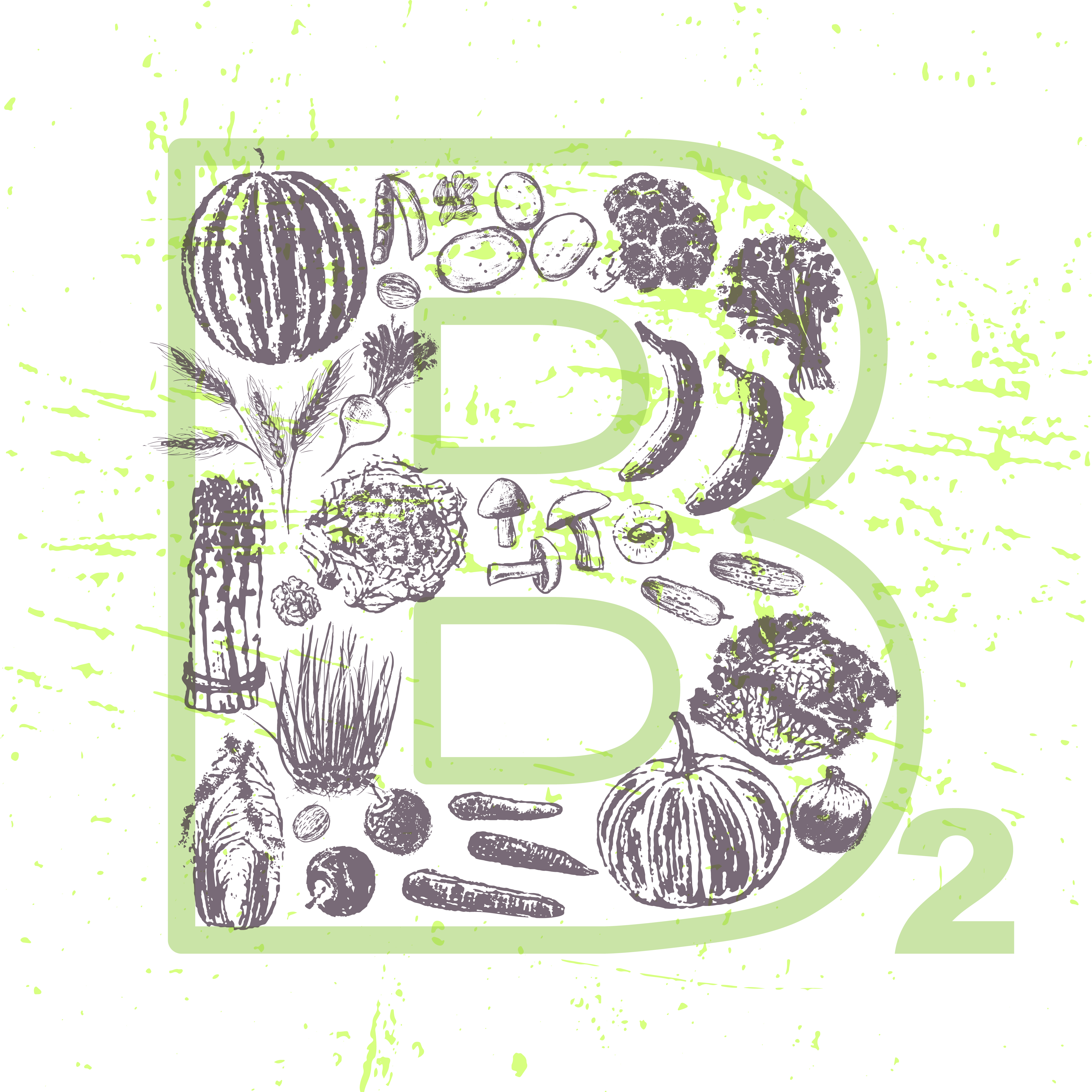 Abstract:
Just like the other B vitamins, riboflavin is a water soluble vitamin. During fetal development, riboflavin is essential for bones, muscles, nerves , and vision. Although deficiency is rare, those who are overall malnourished or do not consume meat and dairy are at risk. Additionally, there are certain genetic mutations that cause riboflavin deficiency, and can even lead to death if untreated.
What is Riboflavin and Why Do I Need It?
Riboflavin, vitamin B2, is an essential water soluble vitamin. This vitamin is necessary for your body to turn food into fuel, otherwise known as energy metabolism. B2 also plays a major role in supporting cellular functions, particularly of bone, muscle, nerve, and eyes.
In addition to energy metabolism and cellular function, riboflavin is a powerful antioxidant. Research finds vitamin B2's antioxidant properties have effects on skin health, anemia, cardiovascular disease, and even some types of cancer (cervical, colorectal, esophageal).
Similar to other water soluble vitamins, your body cannot absorb a lot of riboflavin at a time, and the excess is excreted in the urine.
Although further research is needed, current recommendations support pregnant and lactating women to increase their supply of riboflavin to support energy metabolism, cellular function, and its antioxidant properties.
In this article we will:
Review riboflavin's role in pregnancy

Introduce the biology of B2 metabolism in the body

Explore what prenatal vitamins contain riboflavin

Learn foods high in B2

Define recommended intake, toxicity, and deficiency
Benefits of Riboflavin During Pregnancy
Adequate intake of riboflavin is associated with healthy birth weight and length. During fetal development, riboflavin supports bone development, muscle and nerve development , and vision.
Not only is B2 important for the baby's development, it is also important for mom! Adequate riboflavin is associated with decreased risk of maternal preeclampsia.
Unlike other B vitamins such as niacin and folate, maternal riboflavin intake has no known association with the risk of orofacial clefts in infants.
Riboflavin in Action: What Does it Do in the Body?
As stated above, riboflavin is required for energy production in the body. This occurs in the electron transport chain, where two major coenzymes made from riboflavin, flavin adenine dinucleotide (FAD) and flavin mononucleotide also known as riboflavin-5'-phosphate (FMN), are required to use for the production of energy, or ATP.
This mighty nutrient is mostly absorbed in the small intestine. Within metabolism, DNA function, and antioxidant activity, riboflavin acts in conjunction with other B vitamins such as folate, B12, and niacin.
Did you know? Riboflavin is necessary for the conversion of tryptophan to niacin, as well as the mobilization of iron.
Interestingly, your body can actually produce small amounts of its own riboflavin in the gut. The microbes in the large intestine freely synthesize riboflavin mainly after the ingestion of vegetables. The 'good' bacteria in your gut, such as bifidobacterium and lactic acid bacterium, have been found to make riboflavin right in your gut! This means someone who has a diet rich in probiotics is more likely to have higher levels of riboflavin.
There are 3 main transporters of B2 in the body, RFVT1, RFVT2, and RFVT3. In early stages of pregnancy, researchers have found that RFVT1 is detected in the placenta where it transports maternal riboflavin to the fetus. Although we do not know the full extent of riboflavins role on fetal development, expression of these transporters early on in fetal development indicate its essential role for growth and health of new babies.
Riboflavin and DNA
There are rare genetic variations of the genes that encode for riboflavin transporters. This leads to decreased absorption and transportation of riboflavin, resulting in deficiency. riboflavin transporter deficiency (RTD) is the disease associated with mutations in SLC52A2 and SLC52A3 genes which encode for RFVT1 and RFVT2 transporters, respectively.
Another gene, FLAD1, encodes for flavin adenine dinucleotide (FAD) synthase. Certain genetic mutations of this gene are associated with infant death if not treated early. This is because without proper energy production systems such as the respiratory system, and cardiovascular system begin to fail.
Is Riboflavin in Common Prenatal Vitamins?
Yes! Most prenatal supplements contain riboflavin, although it is important to read the label as some do not. Below is a review of common prenatal supplements, the amount of B2 it contains, and the type of riboflavin found in it.
Riboflavin is converted to FMN and FAD in the body. Many supplements provide an already active form of B2 - FMN; also known as riboflavin-5'-phosphate. The research is inconclusive on which form of B2 is more beneficial for the body.
Name of the Prenatal
Amount
Type

NatureMade Prenatal Multi + DHA:

1.4 mg

(riboflavin)

Ritual Prenatal:

None
N/A

FullWell Prenatal:

20mg

(riboflavin 5-phosphate sodium and riboflavin)

Seeking Health: Optimal Prenatal:

4mg

(riboflavin 5-phosphate sodium)

Perelel:

Conception Support and All Trimesters Pack:

3mg

(

riboflavin 5'- phosphate sodium)
Best Foods with Riboflavin During Pregnancy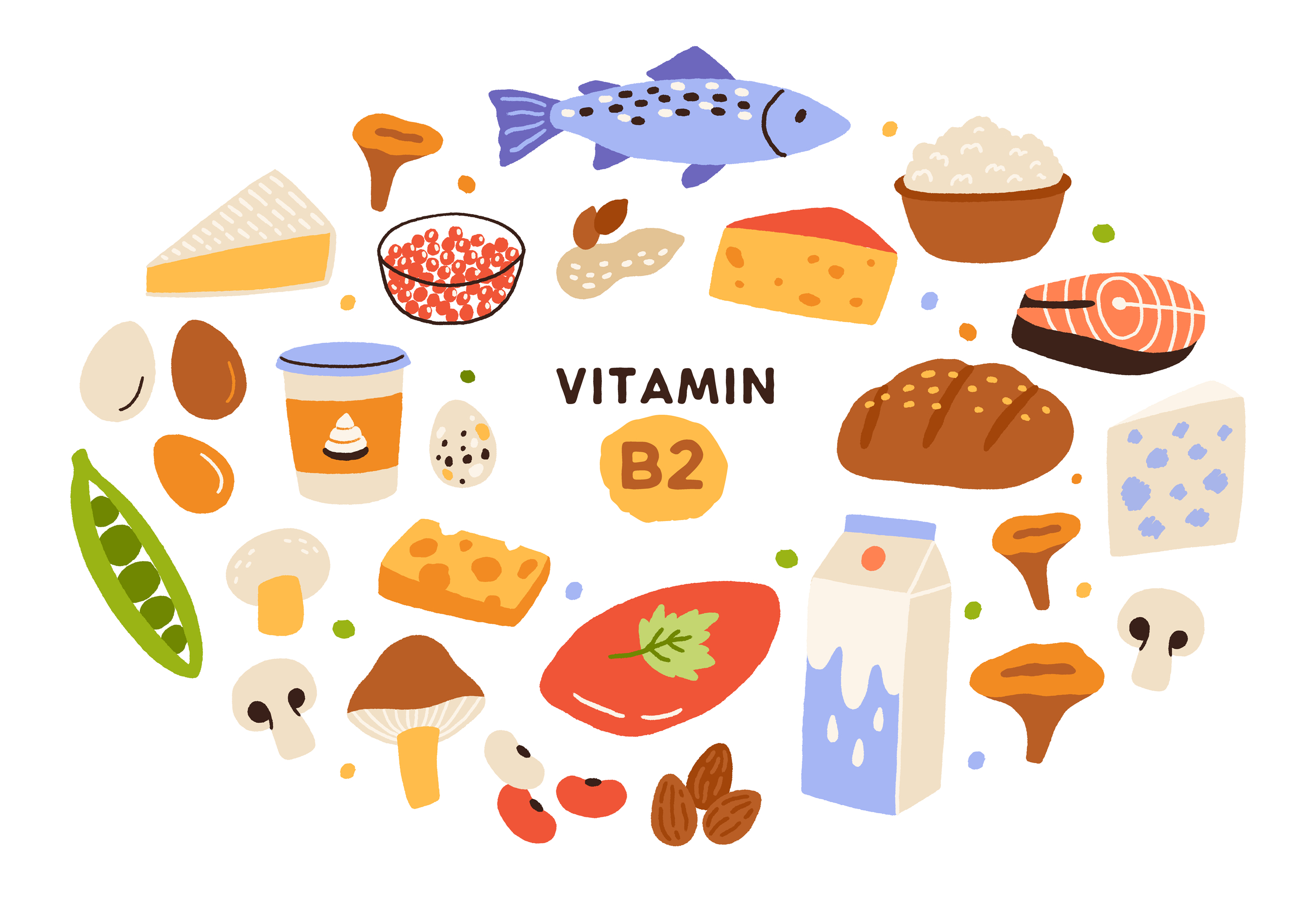 Riboflavin is found in many food sources so deficiency is rare. In addition to B2 being in many highly consumed foods, enrichment and fortification of breads, grains, and breakfast cereals have significantly decreased prevalence of deficiency.
Food source of B2 include:
Milk

Yogurt

Mushrooms

Almonds

Leafy Greens

Beef
Did you know? Riboflavin is destroyed by exposure to light. This is why milk is often stored in opaque or cardboard containers!
How much riboflavin should I take?
In the United States, most people consume an adequate amount of riboflavin. This is because we fortify staple products such as flour. Additionally, since meat and dairy products are so widely consumed in the US, and these products are high in riboflavin, deficiency is rare. According to the National Health and Nutrition Examination Survey (NHANES), less than 6% of the US population is below the recommended intake. The Recommended Daily Allowance (RDA) for riboflavin depends on your age and gender.
RDA for Riboflavin:
Women: 1.0 mg/day

Pregnancy: 1.4 mg/day
How much is too much riboflavin?
Since excess riboflavin is excreted in urine because it is water soluble, toxicity is rare, therefore no tolerable upper level (UL) has been established. That being said, research suggests that it is important to maintain a balance of all of the B vitamins as they work together to maintain homeostasis. This means that too much riboflavin, without adequate intake of other B vitamins could disrupt health.
What Happens If I don't Have Enough Riboflavin?
Riboflavin deficiency typically occurs simultaneously with other b vitamin deficiencies. There is increased risk of deficiency for those who are malnourished or do not consume meat and dairy products. Additionally, there are genetic mutations that can lead to riboflavin transporter deficiency (RTD).
Low levels of riboflavin are associated with increased risk of oxidative stress, inflammation, and immune responses.
Signs of deficiency:
Cracks at the corner of your mouth

Hypersensitivity to light

Sore throat

Skin rash
Summary:
Riboflavin is a B vitamin that is necessary for energy production. It is also important in supporting bones, muscles, and nerves for fetal development. Although deficiency is rare, high risk communities such as individuals with genetic mutations, or those who do not consume meat and dairy products, should be aware of deficiency symptoms.
Reference:
Ashoori, M., & Saedisomeolia, A. (2014). Riboflavin (vitamin B2) and oxidative stress: A review.

British Journal of Nutrition,

111

(11), 1985-1991. doi:10.1017/S0007114514000178

Balasubramaniam S, Yaplito-Lee J. Riboflavin metabolism: role in mitochondrial function.

J Transl Genet Genom

2020;4:285-306.

http://dx.doi.org/10.20517/jtgg.2020.34

Office of dietary supplements - riboflavin. NIH Office of Dietary Supplements. https://ods.od.nih.gov/factsheets/Riboflavin-HealthProfessional/. Accessed May 1, 2022.

Pinto JT, Zempleni J. Riboflavin.

Adv Nutr

. 2016;7(5):973-975. Published 2016 Sep 15. doi:10.3945/an.116.012716

Roles of vitamin B in pregnancy. American Pregnancy Association. https://americanpregnancy.org/healthy-pregnancy/pregnancy-health-wellness/vitamin-b-pregnancy/. Published December 9, 2021. Accessed April 30, 2022.

Solopova A, Bottacini F, Venturi degli Esposti E, Amaretti A, Raimondi S, Rossi M and van Sinderen D (2020) Riboflavin Biosynthesis and Overproduction by a Derivative of the Human Gut Commensal

Bifidobacterium longum

subsp.

infantis

ATCC 15697.

Front. Microbiol.

11:573335. doi: 10.3389/fmicb.2020.573335