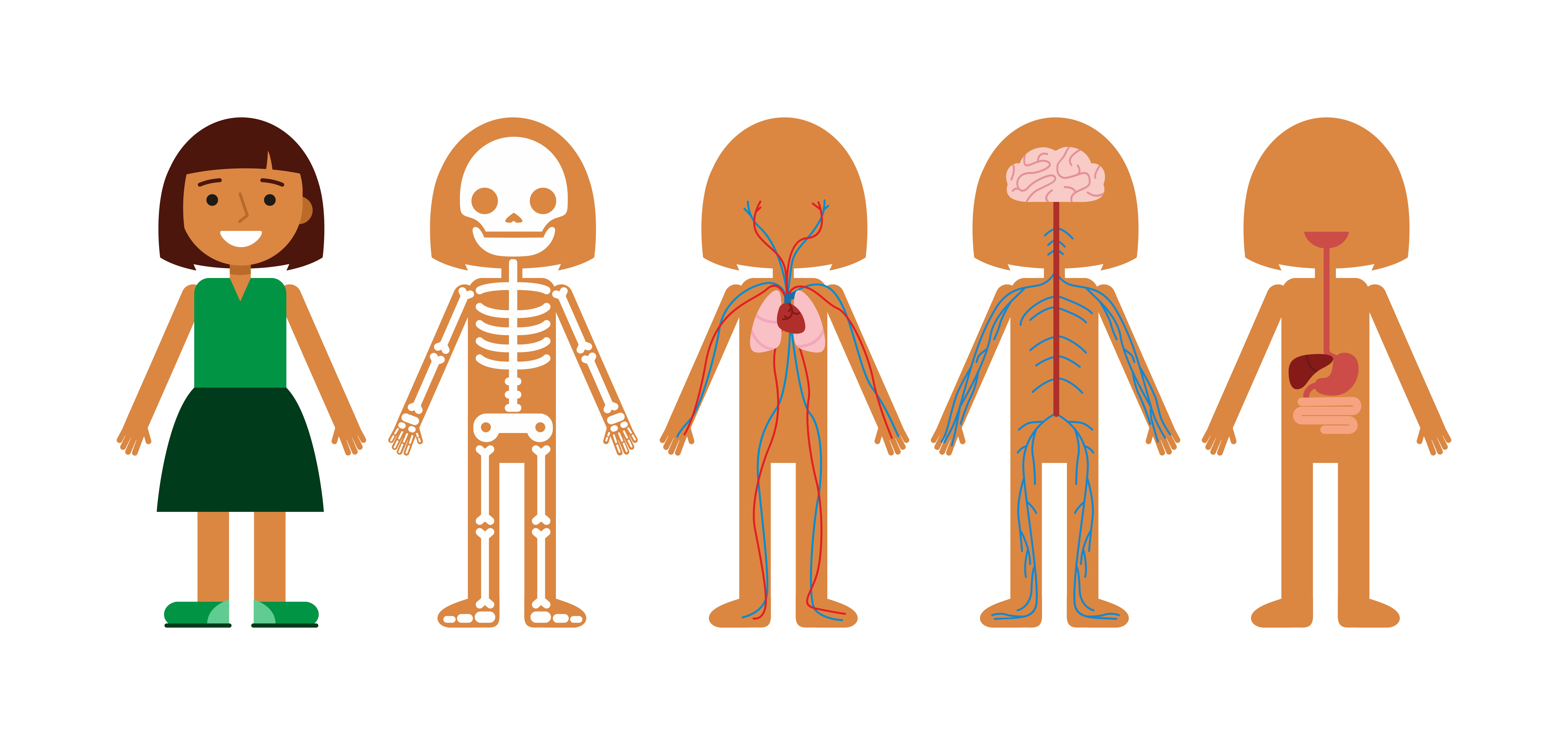 Abstract:
Vitamin B3, or niacin, is essential for your body to convert food into fuel. It plays a major role in your digestive system, nervous system, and integumentary or skin system. For pregnancy, inadequate niacin is assocaited with miscarriages and birth defects. Although deficiency of niacin is rare, there are high risk populations that should be cautious.
What Is Niacin And Why Do I Need It?
Niacin is 1 of the 8 B vitamins and is a water-soluble vitamin. Because it is water soluble, your body does not store it which means you need a constant supply of this vitamin.
While vitamin B3 is often just called niacin, there are actually multiple active forms of B3, the 2 most common being niacin, also called nicotinic acid, and niacinamide, also called nicotinamide. Since niacin is the generic name for vitamin B3, it will be used throughout the article so be aware it encompasses all active forms unless stated otherwise.
Niacin is an essential nutrient for energy metabolism, or turning food into fuel. This mighty B vitamin plays an important role in the metabolism of fats, carbohydrates, and proteins.
In this article we will:
Review niacin's role in pregnancy

Introduce the biology of niacin metabolism in the body

Discuss niacin, skin health, and niacinamide use during pregnancy

Explore what prenatal vitamins contain niacin

Learn foods high in niacin

Define recommended intake, toxicity, and deficiency

Show interactions with common medications
How Does Niacin Help in Pregnancy?
One research study found at least 1/3 pregnant women have low levels of vitamin B3 during the first trimester, when a baby's organ development begins.
Niacin is an essential nutrient for the development of a fetus. Deficiency has been linked to birth defects and possible miscarriages. Inadequate niacin is also associated with congenital anomalies such as congenital heart disease, club foot, or cleft palate.
Not only is B3 important for the baby's development, it is also important for mom! Newer research suggests niacin supplementation is effective in treatment of preeclampsia. Additionally, adequate niacin is associated with improved mental health and overall sense of wellbeing in pregnant women.
While we know niacin is essential for both mom and baby, more research is required to examine the effects during pregnancy.
Did you know? Higher levels of active B3 are found in the fetus and newborn than in the mother.
Niacin In Action: What Does It Do In The Body?
Niacin is a nutrient that is mainly absorbed in the small intestine. This means anyone with gastric bypass, celiacs, or crohns are at risk for deficiency.
In addition to dietary sources of niacin alone, the liver can synthesize niacin from tryptophan. Therefore, adequate tryptophan from protein rich foods become just as important in order to maintain adequate niacin levels.
One of the most important functions of B3 is energy metabolism. Think of any biological pathway, glycolysis, citric acid cycle (TCA cycle), β-oxidation. You name it, B3 is essential for it to work properly. This is because nicotinamide adenine dinucleotide (NAD) and nicotinamide adenine dinucleotide phosphate (NADP) are coenzymes used in most metabolic processes.
Fat Metabolism and Cholesterol
Niacin is a commonly prescribed therapeutic treatment to lower cholesterol. It also plays an essential role in the metabolism of fat in the body.
Niacin supplementation is found to reduce cholesterol by raising the high density lipoproteins (HDL), or 'good' cholesterol, and lowering the low density lipoproteins (LDL), 'bad' cholesterol. Research has shown that supplementation is most effective in combination with statins such as Lipitor. Typically, it is not recommended to take niacin for reducing cholesterol while pregnant, and it is always recommended to consult with your doctor prior to choosing any supplementation.
In biochemistry and metabolism, beta-oxidation is the catabolic process by which fatty acid molecules are broken down to create some energy, or ATP, and produce the precursor molecules needed to create even more ATP via the electron transport chain. Within the beta-oxidation pathway, NAD regulates the conversion of one enzyme to another (L-3-hydroxyacyl CoA to ketoacyl CoA) so without it, fat cannot be broken down properly.
Niacin and DNA
Niacin plays a role in cell signaling, making, and repairing DNA. Just like deficiencies of other B vitamins, inadequate B3 is linked to DNA damage.
Environmental pollutants and oxidative stress can influence the expression of niacin related genes and decrease the effectiveness of niacin usage in the body so some people may need more than others.
Genetic mutation also influences the metabolism of niacin. Two genes of the NAD synthesis pathway, HAAO gene and KYNU gene, are associated with congenital anomalies.
Niacinamide: What Does Niacinamide Do to Your Skin?
Niacinamide can be taken orally through diet and supplements, or used topically for the skin. It is found in a variety of moisturizers and serums and can support overall skin appearance and health.
Overall benefits of niacinamide for skin include:
Treatment for rosacea, eczema, and acne

Protection of skin cells from sun damage

Prevention against skin cancer

Anti-aging
Supports growth of ceramides for skin barrier and structure

Works as humectant or moisturizer

Regulates sebum production, skin oils
Are Niacinamide Products Safe During Pregnancy?
The short answer, yes!
Skin health and appearance changes a lot during pregnancy due to the change in hormones, stress levels, and dietary behaviors. Luckily if you are already using a product containing niacinamide, there is no need to pause for the pregnancy. Research finds skin care formulas rich in niacinamide do not affect fetal growth or development in any way.
It is recommended to consult a dermatologist or general practitioner if you have not used a product with niacinamide, and plan to incorporate it into your new skincare routine.
Is Niacin In Common Prenatal Vitamins?
Yes! Most prenatal supplements contain niacin, although it is important to read the label as some do not. Below is a review of common prenatal supplements, the amount of niacin it contains, and the type of niacin found in it.
Name of the Prenatal
Amount
Type

NatureMade Prenatal Multi + DHA:

18mg

(Niacinamide)

Ritual Prenatal:

None
N/A

FullWell Prenatal:

25mg

(

*Niacin equivalent)

Seeking Health: Optimal Prenatal:

25mg

(Niacinamide)

Perelel:

Conception Support and All Trimesters Pack:

15 mg

(Niacinamide)
*Learn more about niacin equivalent in how much niacin should I take per day
Niacin Food Sources: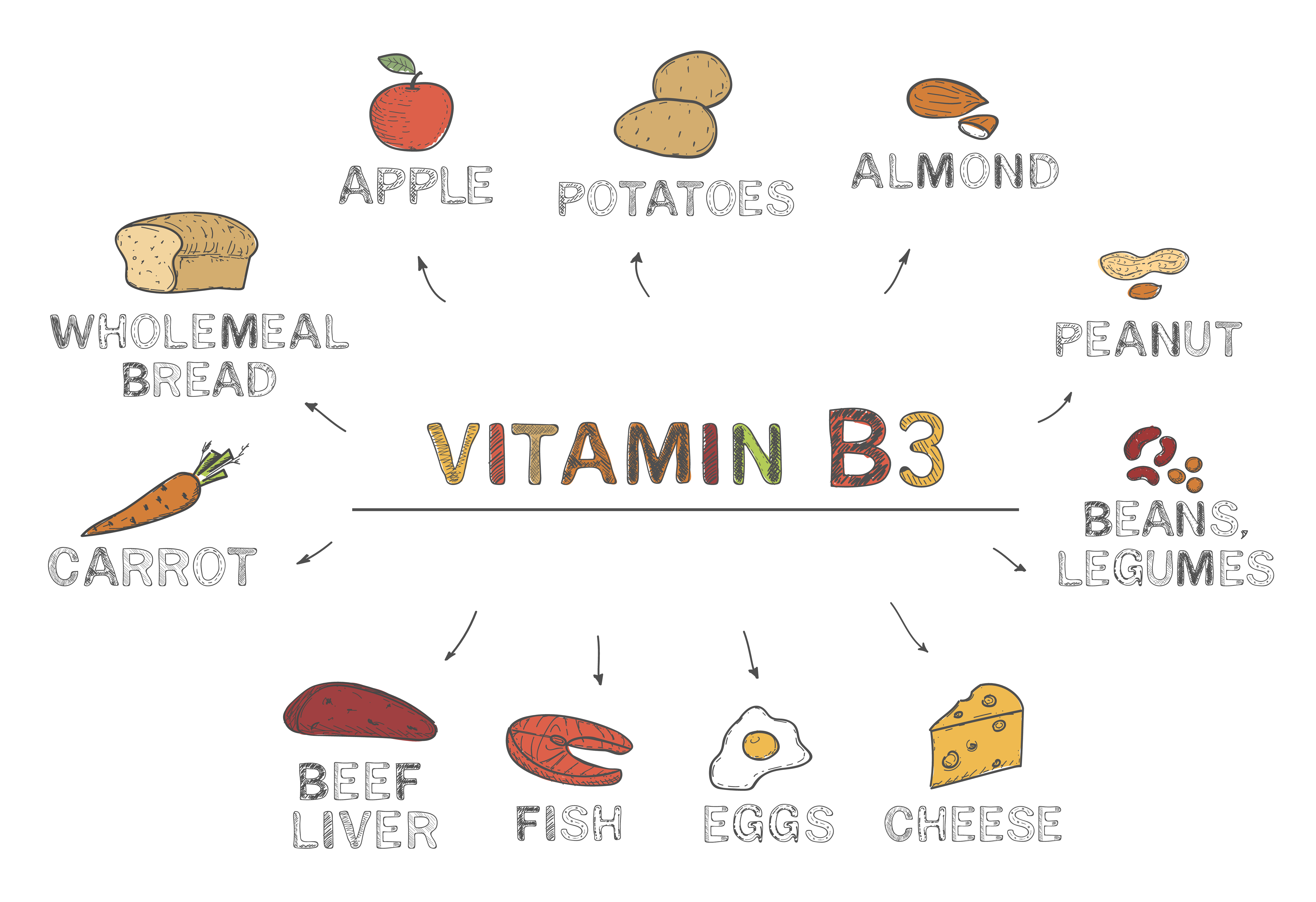 Niacin is found in many commonly consumed foods, particularly since the 1940's when the US required flour to be enriched with a variety of nutrients including niacin. This means that niacin is now found in everyday breakfast cereals, breads, and pasta.
Other foods sources found naturally include:
Liver

Salmon

Peanuts

Brown rice

Chicken breast
How Much Niacin Should I Take Per Day?
The Recommended Daily Allowance (RDA) for niacin depends on your age and gender. It is expressed as mg niacin equivalents (NE). Because your body can synthesize niacin from tryptophan, H4 one NE equals 1 mg of niacin or 60 mg of tryptophan.
RDA for Niacin:
Women:

mg/day: 14 mg NE/day

Pregnancy:

mg/day 18 mg NE/day

Breastfeeding:

17 mg NE/day
How Much is Too Much Niacin?
The upper limit (UL) , value you should not exceed, for niacin is 35 mg NE/day for all people over 18 years of age, including during pregnancy.
Excess intake, typically from supplementation, can cause symptoms such as flushing and redness of the skin, tingling, burning. In addition to these mild symptoms, more serve reported complications from niacin toxicity include:
Liver injury

Digestive pain/discomfort

Impaired glucose tolerance

Muscle weakness
What Happens If I Don't Have Enough Niacin?
Those who are malnourished, have alcohol use disorder, and/or suffer from upper GI complications are more likely to experience deficiency and low-grade symptoms such as rashes, headaches, vomiting, or a bright red tongue.
Severe deficiency of niacin is known as pellagra, and its symptoms are known as the 4 "D": Diarrhea, dermatitis, dementia, and, ultimately, death. Although niacin deficiency is rare due to enrichment and fortification, the disease still occurs among poorly nourished people living in urban slums or rural food deserts, particularly those who suffer from alcoholism.
The dermatitis caused by niacin deficiency can appear as a rash on the face, lips, hands, or feet.
Additional dermatitis symptoms include:
Discoloration (red/brown coloring)

thick, crusty, scaly, or cracked skin

itchy, burning patches of skin

Flaky, irritated skin
Interactions:
Although supplementation of niacin is overall considered a low risk, it is important to be aware of common drug interactions.
Anticoagulants:

High levels of niacin may increase the risk of bleeding.

Alcohol:

increase risk of liver damage.

Blood pressure drugs

: High levels of niacin may decrease your blood pressure too much, hypotension.

Diabetes medication:

May interact with your blood glucose tolerance, so medication may need to be adjusted.
Summary
Niacin, vitamin B3, is a water soluble vitamin necessary for energy metabolism throughout the body. Foods that provide niacin include meat, fortified grains, and nuts.
Niacinamide, an active form of B3, is used often in skincare products, and is the common form of B3 found in prenatal supplements. It is safe to intake at most 35mg NE/day, in addition to using it topically for skin during pregnancy.
Although deficiency is rare, high risk populations should be aware of the signs and symptoms associated with low niacin.
References:
Baker H, DeAngelis B, Holland B, Gittens-Williams L, Barrett T Jr. Vitamin profile of 563 gravidas during trimesters of pregnancy. J Am Coll Nutr. 2002 Feb;21(1):33-7. doi: 10.1080/07315724.2002.10719191. PMID: 11838885.

Cuny H, Rapadas M, Gereis J, et al. NAD deficiency due to environmental factors or gene–environment interactions causes congenital malformations and miscarriage in mice.

Proc Natl Acad Sci U S A

. 2020;117(7):3738-3747. doi:10.1073/pnas.1916588117

Dietary Reference Intakes (DRIs): Recommended Dietary Allowances and Adequate Intakes, Vitamins Life-Stage Vitamin A Vitamin C Vitamin D Vitamin E Vitamin K Thiamin Riboflavin Niacin Vitamin B 6 Folate Vitamin B 12. 2011;(1997). www.nap.edu.

Niacin (vitamin B3). NAL. https://www.nal.usda.gov/legacy/fnic/niacin-vitamin-b3. Accessed April 28, 2022.

Palawaththa, S., Islam, R.M., Illic, D.

et al.

Effect of maternal dietary niacin intake on congenital anomalies: a systematic review and meta-analysis.

Eur J Nutr

61, 1133–1142 (2022).

https://doi.org/10.1007/s00394-021-02731-9

Park YK, Sempos CT, Barton CN, Vanderveen JE, Yetley EA. Effectiveness of food fortification in the United States: The case of Pellagra.

Am J Public Health

. 2000;90(5):727-738. doi:10.2105/AJPH.90.5.727

Redzic S, Gupta V. Niacin Deficiency. [Updated 2021 Nov 20]. In: StatPearls [Internet]. Treasure Island (FL): StatPearls Publishing; 2022 Jan-. Available from: https://www.ncbi.nlm.nih.gov/books/NBK557728/

Takahashi N, Li F, Fushima T, et al. Vitamin B3 Nicotinamide: A Promising Candidate for Treating Preeclampsia and Improving Fetal Growth.

Tohoku J Exp Med

. 2018;244(3):243-248. doi:10.1620/tjem.244.243

Yakob NA, Peek MJ, Quinlivan JA. Vitamin B3 levels in women who experience first-trimester miscarriage. Aust N Z J Obstet Gynaecol. 2021 Jun;61(3):478-483. doi: 10.1111/ajo.13341. Epub 2021 Apr 18. PMID: 33866568.

Yelverton CA, Rafferty AA, Moore RL, et al. Diet and mental health in pregnancy: Nutrients of importance based on large observational cohort data.

Nutrition

. 2022;96:111582. doi:10.1016/j.nut.2021.111582