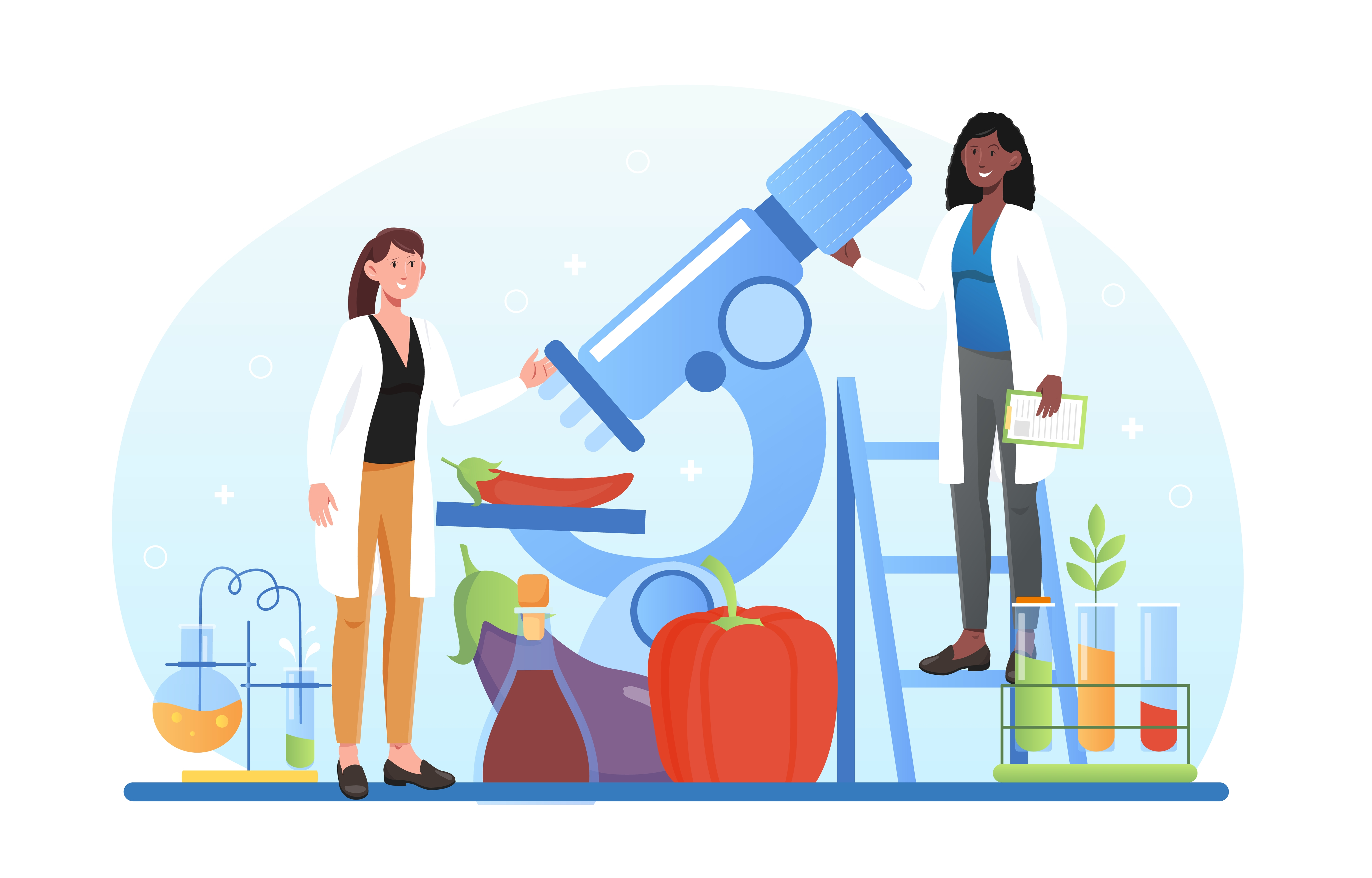 Abstract: Vitamin E is a highly protective antioxidant that supports mom's health during pregnancy. While maternal Vitamin E intake may not directly influence the developing fetus, supporting the mom against free radicals is incredibly beneficial. Vitamin E reduces oxidative stress, promotes immune function, increases circulation, and improves mitochondrial health. These things are great for fertility and an easier conception, lead to a lower risk of pregnancy complications and promote a timely and safe labor and delivery. Research shows mixed reviews on effectiveness, but Alpha-tocopherol supplementation is safe and, at the proper dose it can be quite effective in improving mom's health.
What Is Vitamin E? Why Do I Need It?
In 1925, Vitamin E was first recognized for its effects on fertility and was named tocopherol, based on the Greek words toc and phero, which mean "child" and "to bring forth." Vitamin E, a fat-soluble substance, is a powerful antioxidant. It helps prevent oxidative stress in the body, which is characterized by an excess of free radicals coupled with low antioxidant levels. Circulating antioxidants are capable of protecting the body against scavenging free radicals. Vitamin E works synergistically with another essential water-soluble antioxidant, Vitamin C, to perform important antioxidant functions in both the aqueous and lipid forms. This relationship may account for the limited observation of overt Vitamin E deficiency in humans, as vitamin C may aid in recycling vitamin E stores.
One specific antioxidant activity of vitamin E is protecting the body against lipid peroxidation, which is very common with polyunsaturated fatty acids. When these fats are exposed to high heat, light, or air, they degrade and become oxidized. Otherwise, these fats are healthy. Vitamin E preserves and protects against polyunsaturated fatty acid oxidation, stopping the production of reactive oxygen species.
Vitamin E supports heart health. It is involved in immune function, cell signaling, regulation of gene expression, and other metabolic processes. Vitamin E also increases the expression of two enzymes that suppress arachidonic acid metabolism, thereby increasing the release of prostacyclin from the endothelium, dilating blood vessels, and inhibiting platelet aggregation. This process is also significant later when we discuss vitamin E's impact on labor and delivery.
Why Is Vitamin E Beneficial During Pregnancy?
Vitamin E is very beneficial during pregnancy - for the baby, it helps reduce oxidative stress and enhance lung development, immune function, and gene expression. For the mom, the powerful antioxidant reduces oxidative stress, increases circulation, reduces lipid peroxidation, and improves mitochondrial health.
Before pregnancy, the healthier the mitochondria, the healthier the mother's eggs, making conception easier and contributing to fewer pregnancy complications.
Vitamin E is useful during pregnancy since pregnant women experience increased metabolism, an increase in the production of free radicals, and an increase in lipid peroxidation. The antioxidant is called upon during this time to maintain the body's normal metabolism and function within this new pregnancy environment. Without enough vitamin E, excessive free radicals can accumulate in the body, and during pregnancy, this leads to aging of the placenta, vascular endothelial injuries, and an increase in hypertensive disorders. It can also cause premature rupture of cell membranes.
Even though Vitamin E needs do not officially increase during pregnancy (according to the RDA) and very little of mom's intake transfers to the baby in utero, the nutrient is needed during this demanding time of pregnancy to protect the mom's health. Increased amounts of vitamin E during pregnancy support mitochondrial health, circulation, and overall oxidative stress control in moms, while still being very safe for the baby.
As the pregnancy advances, vitamin E mediates the release of prostacyclin, which increases as the due date gets closer and closer. This lipid molecule plays a role in inhibiting uterine contractions and platelet aggregation while increasing the dilation of blood vessels. Without adequate vitamin E, prostacyclin levels decline, which can cause low birth weight and miscarriage.
Upon birth, babies need Vitamin E to combat the large amounts of oxidative stress present in the outside world. The lungs of newborns are exposed to reactive oxygen and reactive nitrogen species outside of the womb. Without the proper antioxidants to help, the babies' brand new lungs can become damaged.
Is Vitamin E supplementation the answer to ensuring optimal health and eliminating these related pregnancy complications? A current Cochrane review of intervention studies concluded that there is insufficient evidence to support therapeutic vitamin E supplementation for these pregnancy conditions. However, there are research limitations, and further research needs to be done. Since vitamin E moves through controlled mechanisms to the fetus instead of passive placental transfer, maternal intake of the vitamin may not be as directly impactful on the baby compared to other vitamins. However, vitamin E intake is critical to maternal health and safe for the baby.
Other smaller studies have shown that Vitamin E supplementation may be useful in preventing pregnancy-related leg cramps at a dose of 100 mg/day.

It may also play a role in preventing wheezing illness or asthmatic disease in children when supplemented at a dose of 8-18 mg/day

.
What Form of Supplementation Is Best?
Alpha-tocopherol is the natural, non-synthetic, most bioavailable form of vitamin E. The Food and Nutrition Board recommends alpha-tocopherol alone, based on research showing that it is the only form maintained in plasma. Basic tests show alpha-tocopherol providing adequate protection against hydrogen peroxide, a free radical.
Naturally sourced Vitamin E is called RRR-alpha-tocopherol, commonly labeled as d-alpha-tocopherol. Synthetically produced vitamin E is rac-alpha-tocopherol, commonly labeled as dl-alpha-tocopherol. This is the less ideal form and can easily be misconstrued on supplement labels.
How Much Vitamin E Is Needed During Pregnancy?
The RDA for Vitamin E during pregnancy is 15 mg. The Tolerable Upper Limit is set as high as 1,000 mg, specifically during pregnancy. Non-pregnant adults' tolerable upper limit is probably higher.
However, some research has shown that a dose of at least 400 international units, approximately 268 mg, should be taken to get an antioxidant effect. This is significantly above the RDA.
Who Is At Risk for a Vitamin E Deficiency?
Those with the highest risk of deficiency have poor dietary intake.
Since the digestive tract requires fat to absorb vitamin E, individuals with fat-malabsorption disorders are more likely to become deficient. Low-fat diets might provide insufficient amounts of vitamin E unless food choices are made carefully by incorporating plenty of nuts, seeds, fruits, and vegetables.
People with Crohn's disease, cystic fibrosis, or an inability to secrete bile from the liver into the digestive tract may require supplemental Vitamin E, particularly water-soluble forms, such as tocopheryl polyethylene glycol.
Even with low dietary intake, overt deficiency symptoms are rare. However, symptoms of deficiency include:
Peripheral neuropathy (nerve damage).

Ataxia (difficulties with balance).

Skeletal myopathy (muscle weakness).

Retinopathy.

Impairment of immune response.
Can You Consume Too Much Vitamin E?
There have been no documented adverse effects from consuming too much Vitamin E from food, and Vitamin E appears to have low toxicity in humans.
Clinical trials with non-pregnant adults using vitamin E supplementation in various doses have failed to demonstrate any consistent side effects. However, limited and animal-based research studies have shown that high doses of alpha-tocopherol supplementation may cause bleeding and interrupt blood coagulation. In vitro studies suggest that high doses inhibit platelet aggregation. Additionally, human observational studies have reported adverse effects, including fatigue, weakness, creatinuria, dermatitis, reduced thyroid function, increased urinary androgen excretion, reduced leukocyte action, and altered coagulation factors resulting in increased bleeding in vitamin K deficient individuals. Research has linked excessive vitamin E to an increased likelihood of women giving birth to newborns with excessive birth weight. Lastly, another item to consider is that H4: Vitamin E has an antagonistic effect on other fat-soluble vitamins in the blood of pregnant women, preventing the absorption and function of other vitamins.
Within pregnancy, the United States Institute of Medicine Food and Nutrition Board set a tolerable upper limit of vitamin E ingestion at 1,000 mg per day. This indicates the highest intake level likely not to pose a risk of adverse health effects. This established UL for vitamin E is based on the potential for hemorrhagic effects, and doses of up to 1000 mg/day in adults appear safe, although the data is limited. This limit is based on small groups of people taking up to 3,200 mg/day of alpha-tocopherol for only a few weeks or months. Long-term high intakes of vitamin E supplementation should be considered with caution.
Am I Getting Vitamin E from Food?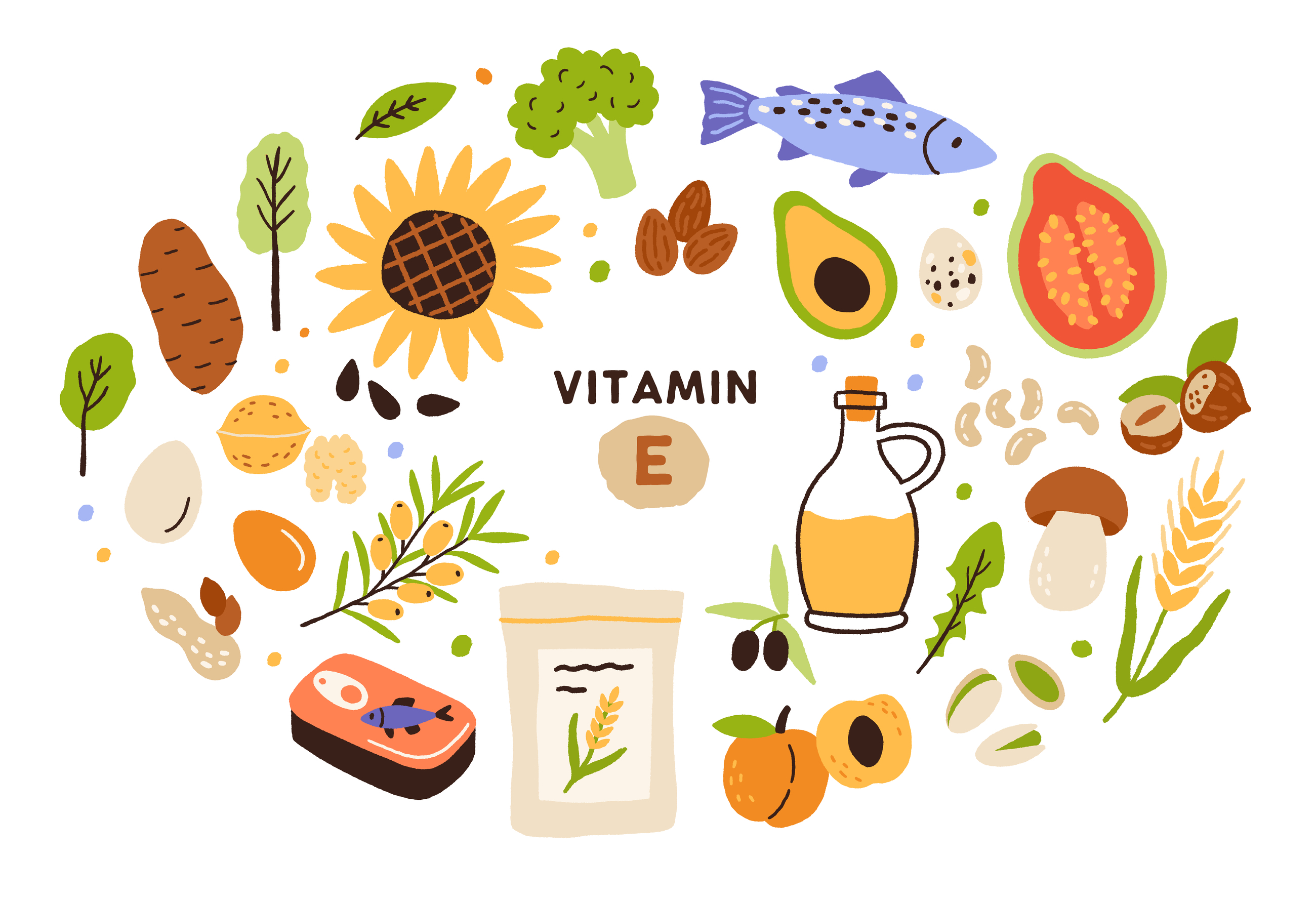 There are several foods that contain vitamin E - nuts, seeds, and vegetable oils (be wary of high amounts of omega-6 fatty acids) are among the best sources of alpha-tocopherol. Significant amounts are available in green leafy vegetables. Other good sources include spinach, avocado, and eggs. Almonds, pistachios, walnuts, sunflower seeds, and flax seeds are specific nut and seed sources with high amounts of vitamin E.
How Can I Tell If I Am Getting Enough Vitamin E?
A serum blood test measures vitamin E (alpha-tocopherol) concentrations. Serum concentrations of vitamin E (alpha-tocopherol) depend on the liver, which takes up the nutrient after the various forms are absorbed from the small intestine. Other forms of vitamin E, besides alpha-tocopherol, are metabolized and excreted. As a result, blood and cellular concentrations are primarily the alpha-tocopherol forms of Vitamin E.
Prenatal Vitamin Brands: What's the Vitamin E Amount and Type in Popular Prenatal Brands?
Name of the Prenatal
Amount
Type

Parsley Health Prenatal:

134 mg

(d-alpha-tocopheryl succinate and mixed tocopherols)

Modern Fertility Prenatal:

None

N/A

Ritual Prenatal:

7 mg

(alpha-tocopherol from mixed tocopherols)

FullWell Prenatal:

100 mg

(d-alpha-tocopheryl succinate)

Perelel:

Conception Support and All Trimesters Pack:

10 mg

(d-alpha-tocopheryl succinate)

NatureMade Prenatal Multi + DHA:

15 mg

(d-alpha tocopherol)

Seeking Health: Optimal Prenatal:

130 mg

(as Novatol d-alpha tocopheryl acid succinate)

Designs for Health: Prenatal Pro:

None

N/A
Prenatal Analysis
There is a broad spectrum of supplemental amounts for Vitamin E across the prenatal brands. Some brands decided not to include Vitamin E completely, while others included low doses closer to the RDA amount. Still, other brands have decided to include 100 mg or more of Vitamin E, hoping to elicit antioxidant protective effects in mom. All amounts are more than safe, so when considering the proper Vitamin E amount for you, include dietary intake and any increased deficiency risks in your decision.
Resources:
Brown B, Wright C. Safety and efficacy of supplements in pregnancy.

Nutr Rev

. 2020;78(10):813-826. doi:10.1093/nutrit/nuz101

Chen H, Qian N, Yan L, Jiang H. Role of serum vitamin A and E in pregnancy.

Exp Ther Med

. 2018;16(6):5185-5189. doi:10.3892/etm.2018.6830

Vitamin E for conception, pregnancy, and breastfeeding. FullWell. Accessed June 9, 2022.

https://fullwellfertility.com/blogs/blog/should-you-take-vitamin-e-while-pregnant-or-breastfeeding

Office of Dietary Supplements - Vitamin E. Accessed June 9, 2022.

https://ods.od.nih.gov/factsheets/VitaminE-HealthProfessional/

Gao F, Guo F, Zhang Y, Yuan Y, Chen D, Bai G. Vitamin A, D, and E Levels and Reference Ranges for Pregnant Women: A Cross-Sectional Study 2017–2019.

Front Nutr

. 2021;8. Accessed June 9, 2022.

https://www.frontiersin.org/article/10.3389/fnut.2021.628902

Rumbold A, Ota E, Hori H, Miyazaki C, Crowther CA. Vitamin E supplementation in pregnancy.

Cochrane Database Syst Rev

. 2015;(9). doi:10.1002/14651858.CD004069.pub3

Yang W, Jiao M, Xi L, et al. The association between maternal fat-soluble vitamin concentrations during pregnancy and infant birth weight in China.

Br J Nutr

. 2021;125(9):1058-1066. doi:10.1017/S0007114520003347

Natural Medicines - Professional. Accessed June 3, 2022.

https://naturalmedicines-therapeuticresearch-com.libproxy.bridgeport.edu/databases/food,-herbs-supplements/professional.aspx?productid=934